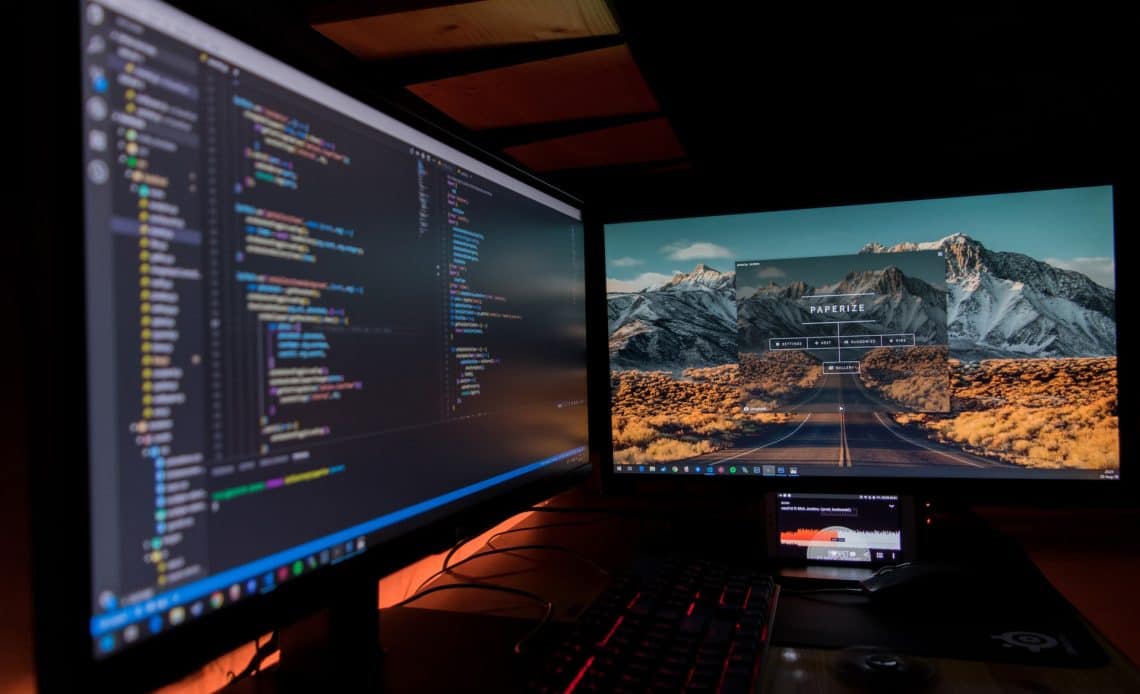 Programming is an extremely lucrative profession, but it also requires long hours of work and focus. What equipment or gadgets do programmers usually cannot do without? Let's find out what should be on a programmer's desk.
What accessories are necessary for every programmer?
What can affect the comfort, and thus productivity of a programmer? Below we present some interesting ideas.
The right monitor, and preferably two
Among the equipment that is necessary for the programmer's work, there is a powerful computer and a good monitor. It is best to opt for two monitors right away. Two screens can significantly speed up the work. What monitor will be a good choice?
What parameters should you pay attention to when choosing a monitor for a programmer? Usually monitors with a relatively high resolution, as well as the refresh rate of the screen. In the work of a programmer, time is also very often important. Therefore, it would be good if the new monitor would be equipped with additional ports, such as USB 3.0 ports, allowing you to plug in an external drive. The last feature of a good monitor for a programmer is eye protection. These people often work in the middle of the night or after dark, making their eyes prone to rapid damage. Take care of your eyesight and opt for monitors with a blue light filter.
Comfortable chair – support in programmer's work
Programmers very often feel the effects of long-lasting sitting in one position, on an uncomfortable chair. Therefore it is worth taking care of comfort and good condition of the spine by investing in a proper chair for the computer.
There are lots of different types of chairs available on the market. If you want to choose the best model, pay attention to whether the office chair is equipped with such elements as: base with wheels, armrests, adjustable headrest, backrest height and tilt adjustment. It's worth investing in a chair with lumbar support. Such elements can also be purchased separately.
Accessories and devices – essential on a programmer's desk
To ensure the highest level of comfort while working, it is also worth betting on such elements of equipment as an adjustable footrest and a multifunctional desk lamp. Lighting at the programmer's work is also important, not only for his comfort, but also for the health of his eyes. Choose a lamp that allows you to change the intensity of light, as well as its color (depending on the time of day). Other accessories worthy of attention include: a vertical computer mouse, which does not strain the wrist, and a matching desk pad. A keyboard pad is also a great idea, as it cushions the keyboard so it doesn't slip, and on top of that – in some cases – it runs quieter, and certainly more comfortably.
Rubber ducky – coding helper
A rubber ducky or other object held near the computer is a well-known method for debugging code. The programmer translates the code piece by piece to the rubber ducky or other object of his choice, so he can see the errors in it himself. Although the rubber ducky method may sound rather funny, many programmers claim that "it works for them". The rubber toy can of course be replaced by other gadgets such as teddy bears or figurines from your favorite game, movie, or TV show. 
main photo: unsplash.com/Fotis Fotopoulos