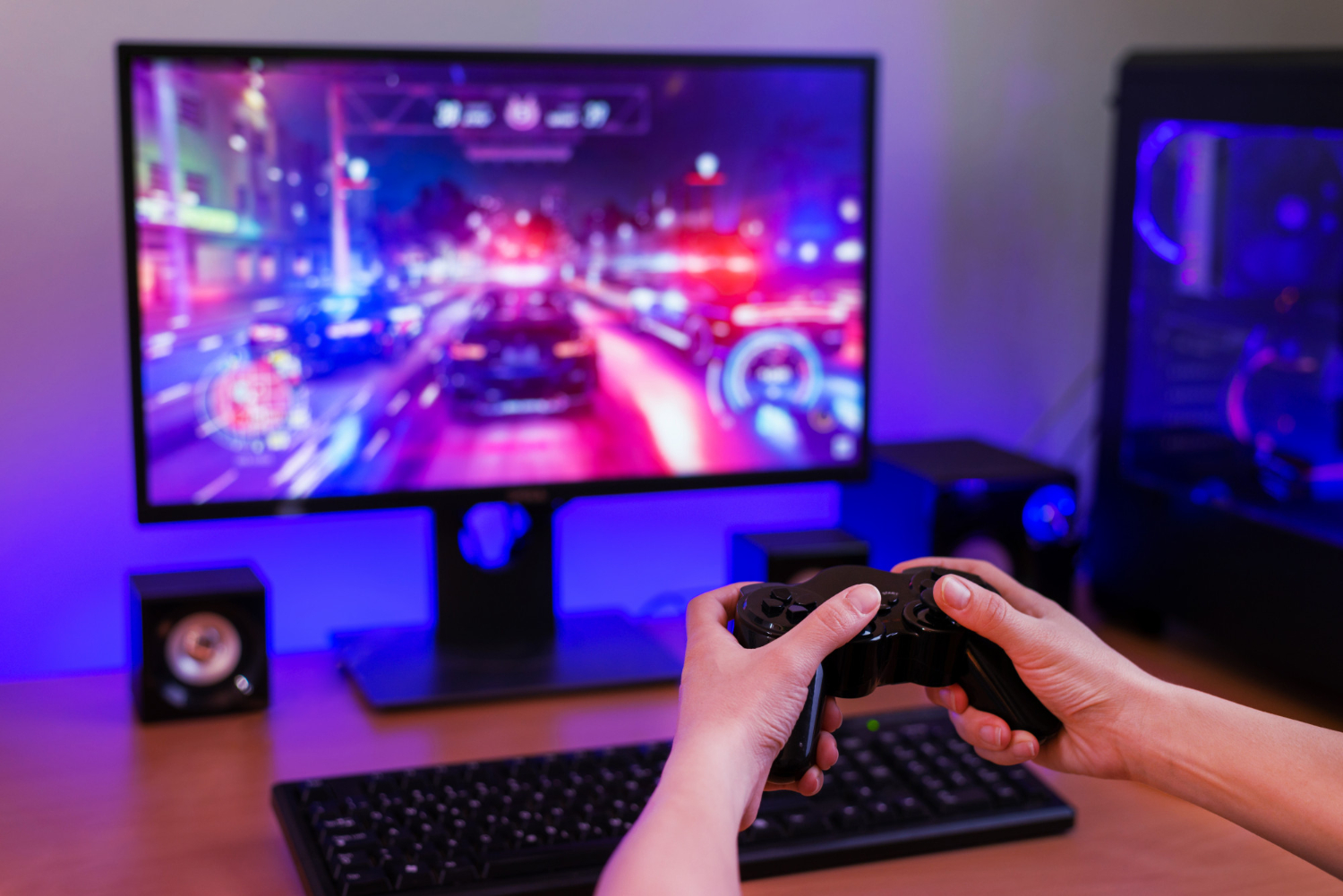 A gaming monitor is as important element of the game as the graphics card or the cooling system. There are many aspects to choosing the right model – here are the most important parameters.
What to pay attention to when choosing a monitor?
A monitor is characterized by many important parameters – the specification details concern both the physical dimensions of the device and the technical aspects. Before deciding to purchase a given piece of equipment, it is worth to pay attention to the resolution, diagonal and type of matrix used. In addition, an important issue is the input of image sources, which should be compatible with your equipment – laptops, consoles or computers.
The diagonal of the monitor screen – what will be the best?
To begin with, it is worth addressing an issue that, although not the most significant in terms of technical parameters, very often becomes the main criterion for selection. It is about the diagonal of the screen – in this case it is worth to adjust the proportions of the monitor to the desk, and preferably to the entire room
A too large or too small product may very negatively affect the decor of the room, and additionally reduce the comfort of using the equipment. One of the most popular sizes is 24 inches. Models with such dimensions will work well in any room and will allow you to enjoy all the details in games without any problems.
If you have a sizable desk, it's worth considering a 27-inch monitor. This type of equipment is also quite versatile in terms of fitting into the room, but we need to remember about maintaining a slightly greater distance. Often larger screens are also associated with a higher resolution – a great choice when we want, for example, to play games in the 1440p standard. In the case of 30-inch monitors we can count on even better image quality, 21:9 aspect ratio, and in many cases also 2K or even 4K resolution.
Monitor with curved or flat screen?
The next criterion is the type of screen – more and more equipment is equipped with a curved matrix. In this case, it is worth considering the intended use of the monitor. If the device is to be used primarily for gaming, a curved screen will be a much better choice. Thanks to this design we can feel the perspective of the characters in a more natural way – this type of solution is well adapted to the natural field of view of the eye
Flat screen, in turn, is much better for watching movies or working with documents. It is also a much better choice when working with images – with a standard design we will not be exposed to distortion of photos or recordings.
Choice of matrix – TN, IPS, or VA?
Let's move on to more detailed parameters. Technical aspects of the monitor are a particularly important evaluation criterion for skilled gamers. One of the most common solutions, both in cheaper and more expensive products, are TN matrices. The biggest advantages of this type of screens are short response time and high refresh rate
However, this technology is not without its drawbacks – we have to be prepared for slightly worse color reproduction in comparison with IPS or VA. Such specifications make TN screens are particularly often chosen by gamers, especially lovers of titles in which the response time is of key importance.
IPS monitors are based on technology previously used in TVs. These types of screens have excellent color reproduction, wide viewing angles, and great black depth. This is a very good solution for gamers who want to admire amazing worlds in the latest productions, such as Cyberpunk 2077 or Assassin's Creed: Valhalla. However, it is not a suitable choice for FPS games, where details can be crucial – in this case TN matrices will work better.
VA matrix is in a way a combination of the advantages of TN and IPS. In this case, we can count on wide viewing angles and very good color reproduction. Unfortunately, this type of screen has also some disadvantages – the response time is on a relatively low level.
Before making a choice, it is worth to analyze all the described parameters: diagonal length, curvature of the monitor, as well as the matrix type. Also do not forget about the resolution – the most popular options are Full HD, WQHD and 4K. Taking into account all of these issues and comparing them with our requirements, we can easily choose a monitor that will meet our expectations and improve the quality of gameplay.